After finding long-awaited fame from a viral video of Pharrell Williams listening to her debut track "Alaska", Maggie Rogers dropped her debut album on Friday. "Heard It In A Past Life" features 5 tracks that have already been released as either promo's or on her debut EP "Now That The Light is Fading." With 7 tracks not heard of before, I'm ready to get my ears into this glorious album. I've been a fan of Maggie's electronica music for a few years now and she honestly gets better and better.
Putting her folk vibes slightly to bed, it's Greg Kurstin's production skills that has really brought Maggie's pop elements out more. "Give A Little" was released as the 3rd single for the album. Described on a handwritten note, Maggie re-introduced herself in a more ethereal-pop way. It was this song that made fans realise that she was going for a bigger production and not the sitting round a camp-fire kind of songs. She has the voice to pretty much do any type of music that she wants too. Inspired by more political views, the national school walk out in the US affected Maggie in a way that it made her become empathetic and wanting to make a change. Gelled with rhythmical but memorable vocals, it's a proud song to have in your song collection and a beautiful message is shone throughout. 
A heartache song to Maggie's past self. Everything changed "Overnight" for her, she had to find her feet on the ground there and then. Everything had to be figured out and put together with the snap of her fingers. People don't realise how hard that is until you go through it yourself. "Things get strange, but I'm alright, I'm still here" is the perfect lyric to imply that things really did surprise her in the way that it all suddenly happened. There's nothing that can really prepare you for the fame and fortune lifestyle, but Maggie did it with grace. As a songwriter, the perfect way to tell a story is to simply write a song. 
A song that deals with the simplicity of shrugging knowledge off by dancing with your friends after dark until the early hours. "The Knife of insight tore its way in me, A brash collision without sympathy" insights that sudden facts entered Maggie's mind. In other words, when Maggie got the recognition she truly deserved, everything started to make sense. People that aren't your true friends will come back into her life to jump on the band wagon, making her think "wait a minute, you haven't been here for years? I don't need you in my life." The Knife's story needs to happen to everyone once in their life time. Simply let off some steam with a dance.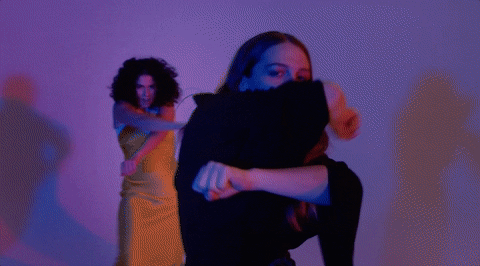 The worldwide phenomenon "Alaska" blew everyone away from the first listen. With over 90 million streams and counting, the folk-dance (that is now a thing thanks to Maggie) is an astonishing mixture of breathtaking vocals, layered percussion that's not too much and homemade 'samples.' The samples include a talking sample coming from a hand drum, a rhythmical pat on her jeans, a snap of the fingers and a morning dove. Imaginative and clever, the balance of the story is mirrored straight through to the end. We hear Maggie's love for hiking in natural habitats and dancing. Two completely different things that make Maggie. Alaska, I feel is an introductory song to the girl behind the track. It's filled with anxiety during the verses but the chorus calms down that momentum with "and now, breath deep, I'm inhaling." This implies that it's time to chill and live right here, right now. Alaska is free and liberated for Maggie, it's a place where she found her 'new' self.
"Light On" identifies the feeling of Maggie's transformation from a private to a public figure. It seems that the album is fitted around her self change and how fast things happened. Leaving a light on implies that she's so grateful for her fans showing her the light in what she feels can be darkness. Covered in the pop elements that the album is featuring quite a lot, Light On is fresh and filled with energy. The first song written for the album was actually track number 6: "Past Life." Stripped back to the bones, the track is bare but feels so alive too. Recorded in one take, the end of side A is a perfect send off to her past self, just like a butterfly flying out of its previous lives cocoon.
Getting D'Angelo/Thundercat vibes from "Say It." Inspired by a crush that Maggie had at the end of graduation, she wrote the track with two of her friends from college. I've noticed with her songs that she always sings the actual song title, with that it really cements the basic pop structure. Gaining a bit of grit, the emotions are poured through Maggie's vocals and the hip-hop grooves that blanket over them with warmth.
A previous track of Maggie's is "On + Off", a story about a back and forth relationship but being together is comforting, even though sometimes letting go is the easier option. A humble track that I feel that we can all relate to in some way or another. 
Drowning in a stream of thoughts, Maggie created "Fallingwater" due to rapid change. We've hit this subject quite a few times now so you'd think we'd get bored with the topic already. There's just something about how she can take one subject and explain it in so many different ways. Elements of vulnerability are portrayed through the gospel inspired track. It's a cry for help through a hard transition, but bursting at the seams are acceptance. Like finishing a chapter in a book, time to finish the page and move on. Taking us more towards a synth-pop based tune, "Retrograde" is simply about a breakdown. Defining retrograde is moving backwards. Maggie dusted herself off and didn't look back. She moved forward and let go. 
"Burning" is a dance track purely about love. Maggie loves what she does and you can tell that 100%, but in this song, there's something different. We hear her becoming this role model and it really shows us how far she's come. From being that shy girl who loves nature, she's become confident with herself and knows she's capable. As for the instrumentation, I feel it gets a bit repetitive and doesn't move anywhere. She's explaining that she's a flame of love, so surely the mix should be slightly warmer and energised? Personal preference I guess. To conclude a wonderful album is "Back in My Body", a track that's able to do the things you love, but to do them in your own, unique way. As Maggie has found her feet in the fame and fortune world, she's most likely being controlled by management. You could say this is a rebellion to say "no actually I'm going to do things my way, or it's the highway for you." It's a sense of coming home and feeling comfortable with yourself. A perfect finish to a really well crafted album. 
Favourite Tracks: Give A Little, Overnight, The Knife, Alaska, Past Life, Say It, Retrograde, Burning
Score: 8/10